Kashdroid – now shipping
We've finally published our Kashflow Android client – Kashdroid – which is now available on the Google Play store
It's available for free, and provides you with nearly all the functionality of the official web application – but integrates with your Android phone / tablet (e.g. address book sync, photo upload to receipts, maps/directions/navigation and quick dial etc).
It can work in an offline manner – assuming it's already loaded the data once before, so should work well if you're using it while mobile. You can even create invoices and so on while offline, and when network connectivity is next established it will submit them.
A few features are available after you purchase an in-app purchase (e.g. Widgets, Address book sync, Invoice creation etc).
Some screenshots follow – we've also added a video (which you should be able to see from the Google Play listing; as will be obvious, we're not video production experts, so it's probably a bit amateurish – when Kashdroid tops the app charts we'll hire someone to do a proper version!).
The initial welcome screen
Showing some "pretty" graphs, if you tilt the device over or scroll down along with overview figures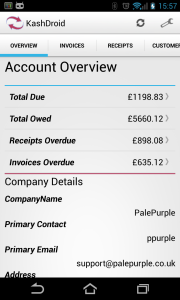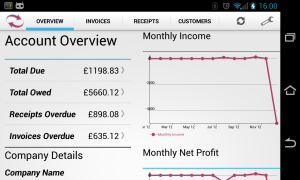 Customer Listing
View your customer's details – linking into the phone/maps/navigation etc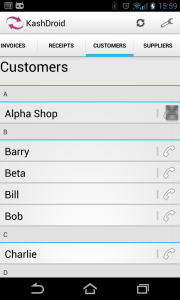 We've created different views / layouts for different orientations – so it's nice to use on larger devices like tablets.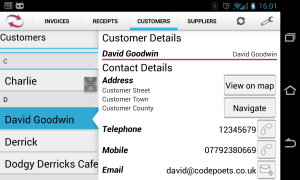 Invoices
Colour coded to alert you to problematic customers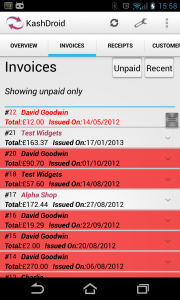 The app allows you to create/edit invoices,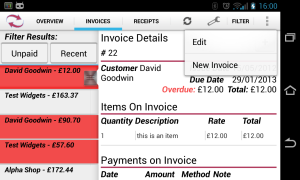 As well as sending them to customers via email –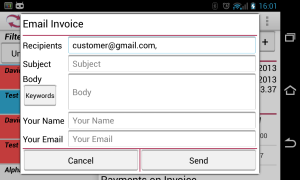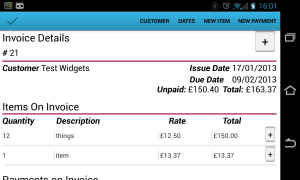 ‹ Kashdroid – a kashflow client Improving site performance using asynchronous database writes and memcache in PHP ›